Stops
Note temporary road work at Rälla: From 10 a.m. on Monday 25/9, the stop will be moved as shown in the picture: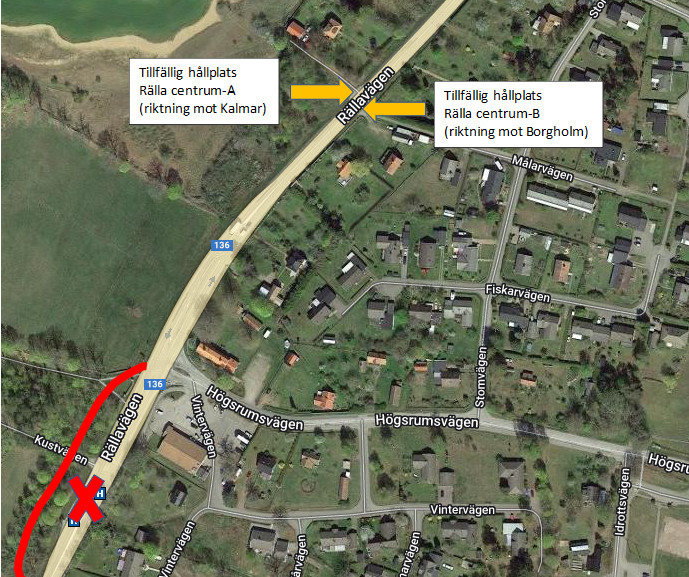 Boarding and deboarding can only take place at the following locations:
Byxelkrok (summer timetable)
Böda Sands roundabout (summer timetable)
Böda (stop until 2/10 2023 and 18/12 2023-7/1 2024)
Löttorp, OKQ8
Källa
Södvik
Föra
Ormöga
Köpingsvik
Borgholm Travel Center
Rälla
Glömminge
Färjestaden, Träffpunkten
Kalmar Central Station
Mönsterås, E22
Ringarum, Rasta
Stockholm
Be sure to book your ticket to/from the correct stop, we only guarantee that the bus will stop at the stop you booked to/from.
The bus stops, for boarding, for non-pre-booked journeys at the following three stops: Borgholm, Färjestaden, Kalmar. Please note that on popular departures there may be several buses, choose the same stop as your travel companions to make sure you end up on the same bus.
Silverlinjen has only long-distance traffic so boarding and deboarding must take place in different counties (Öland and Kalmar are the same countie and are not posible). If you get on the bus in Öland/Kalmar/Mönsterås, the departure is in Ringarum and Stockholm.
Mönsterås, E22
The stop "Mönsterås, E22" is located along the E22. In the northbound direction, it is found just after the traffic lights in Mönsterås. In the southbound direction, it is just before the traffic lights. (The stop sign says Mönsterås Norra.) There is an underpass under the E22 if you need to cross the road.
Parking in Kalmar.
You can find more information about parking and fees at kalmar.se.